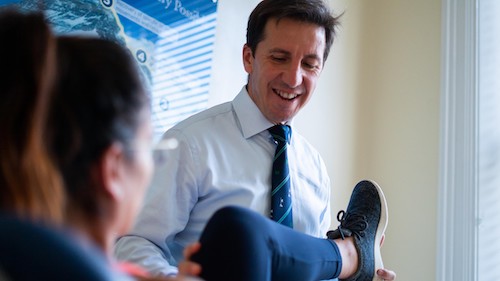 Dr Jesus Olmo
Consultant Sports & Orthopaedics Rehabilitation Doctor
Watch the TH+ expert interview with Dr Olmo
Dr Jesus Olmo is a top private Consultant Sports & Orthopaedics Rehabilitation Doctor in London specialising in the non-surgical treatment of all kinds of musculoskeletal conditions. He offers fast private appointments at Isokinetic Clinic London.
Before moving his private practise to London in July 2022, he has spent most of his professional career in Spain, becoming one of the best recognized experts in Sports and Orthopaedic injuries in the country and internationally. He was appointed Medical Director of Real Madrid CF in 2013 and stayed at the position for four seasons when the club earned three UEFA Champions League Cups. Prior to that, Dr Olmo worked as the Head of the Department of Rehabilitation and Sports Medicine at Quirón Hospital, Madrid; and has been the Medical Director of the Spanish Rugby Union.
His medical education includes a PhD in Physical Medicine & Rehabilitation by the Complutense University in Madrid, a Master's Degree in Sports High Performance by the Spanish Olympics Commitee and Madrid Autónoma University, and Sports Medicine Fellowships in Linköping University, Sweden with Dr Jan Gillquist and in Pittsburgh University, United States of America with Dr Freddie Fu.
He is also the co-founder and current Medical Director of the Football Science Institute FSI, a renowned international education and research institution devoted to the Medicine and Sports Science applied to football.
AREAS OF EXPERTISE
Dr Olmo is an expert in bringing back injured patients to active and healthy life. His major areas of expertise are:
Knee injuries
ACL reconstruction Rehabilitation for Full return to Physical and Sports Performance
Lumbar pain, disk injuries and chronic, degenerative disease
Cervical and dorsal spine pain, disk injuries and chronic, degenerative disease
Hip, Groin and Pelvis injuries
Foot & Ankle injuries
Shoulder and Upper Limb injuries
Sports Injuries management for accelerated Return to Play and Performance
Hip and Knee Osteoarthritis non-surgical treatment for quality-of-life enhancement and surgery delay
Orthobiological treatments including Platelet-Rich Plasma and Mesenchymal Stem Cells
High-level athletes Health and Performance management
Sports Injury Prevention