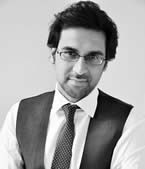 Dr Adil Sheraz
Consultant Dermatologist - MBBS, BMEDSCI(HONS), MRCP (UK), MRCP (DERMATOLOGY) (UK)
Watch The British Skin Foundation: LIVE Skin Q&A
Watch The British Skin Foundation: LIVE Acne Q&A
Watch The British Skin Foundation: LIVE Psoriasis Q&A
Watch The British Skin Foundation: Managing Acne
Dr Sheraz graduated from St Bartholomew's and the Royal London Hospital School of Medicine in 2005 where he also intercalated and obtained a BSc in Molecular Therapeutics. His training in General Medicine took place in various London hospitals and he gained Membership of the Royal College of Physicians in 2010.
He completed his specialist dermatology training in the Kent, Surrey and Sussex rotation and gained further dermatological experience from working at the prestigious institutes of King's College Hospital and completed part of his training at St John's Institute of Dermatology, St Thomas', London. After obtaining his Specialty Certificate Examination in dermatology he worked as a consultant in Kent before moving to his current substantive post as a consultant at the Royal Free NHS Trust.
Dr Sheraz is on the specialist register and his interests include skin cancer, skin surgery, psoriasis, general adult dermatology, acne and allergy. He regularly provides teaching and lectures to undergraduates and post graduates and has been an examiner for the dermatology section for medical students at King's College Hospital.
Dr Sheraz's work has been published in various journals and he has presented in multiple national and international conferences which include the British Association of Dermatology Annual Conference and also the American Academy of Dermatology.